Design informed by science
Behavioural science education for creative professionals.
The essentials
Learn the basics of Applied Behavioural Insights. Explore key techniques, tools and theory. Useful for people working on people-focused products and services.
Deep dives
Take a deep dive into psychology applied to design. Exploring key insights, processes and takeaway tools.
Tools
Get the latest tools and methods. Combine behavioural science with problem solving with these ideation cards.
Very enjoyable. Learnt a lot from the practical hands-on case studies. Loved the lively and engaging leader.
Business Analyst
Brain crammed with knowledge after today's Behavioural Design Workshop. Recommend having Lauren come in. Energising.
Principal Designer
Very valuable. I got cool new techniques and ideas for testing a product. Enjoyed the practical exercises.
Customer Researcher
Supercharged my ideas! Gave me the tools to create solutions that I wouldn't have otherwise.
Designer of Public Services
Made for you harnesses the power of Psychologists and Designers to create a course that meets your specific business challenges.
Designed to fit all schedules. Our courses and bespoke sessions are held where you need. At our Manchester HQ, immersed in your space or at your team away days.
Design-science tools for creatives
Small, but mighty behavioural science backed ideation cards.
For problem-solving, learning and creating change.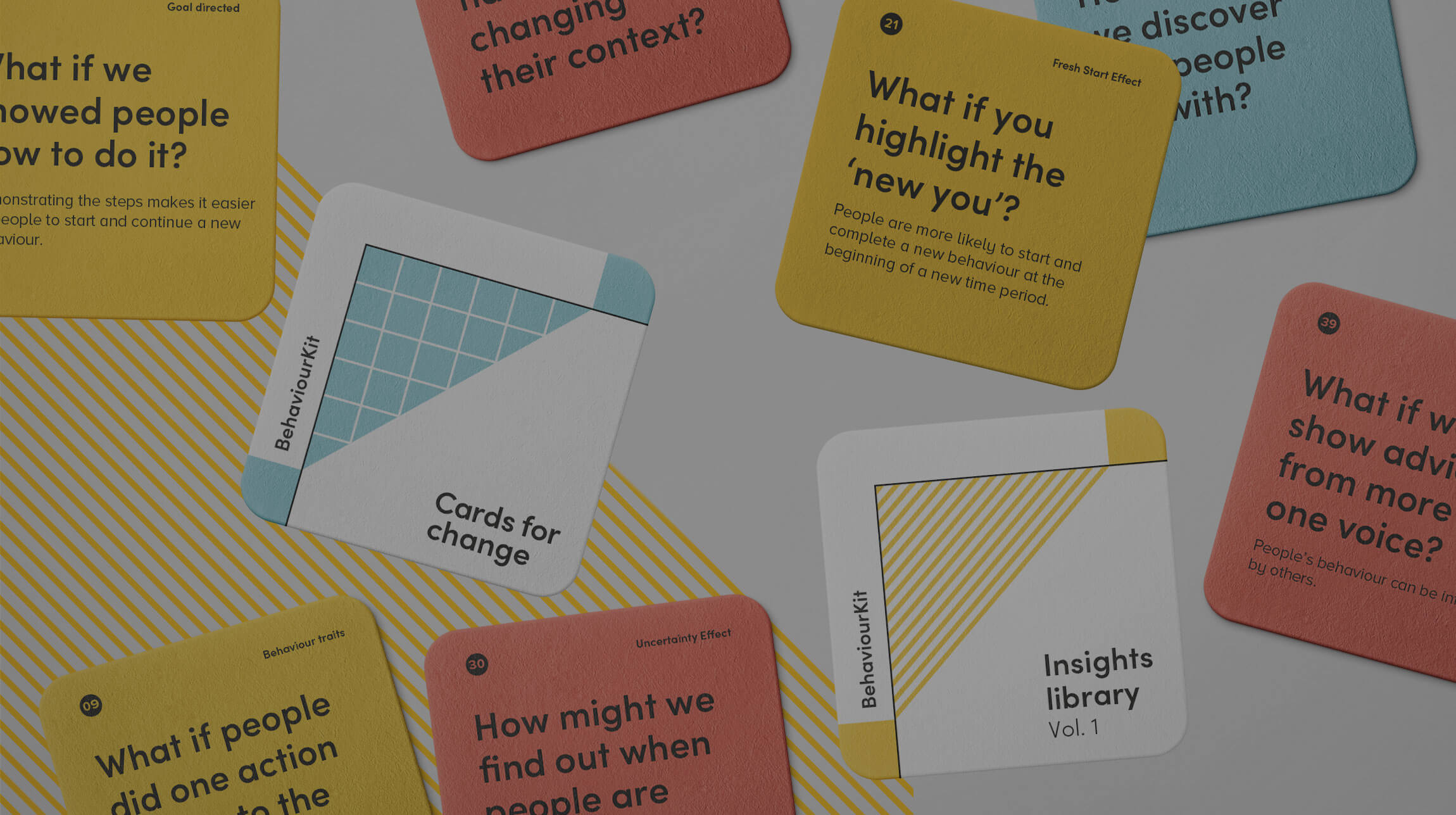 Generate ideas based on science
Tools for workshops, ideation and learning
For design leaders who want to focus on people's behaviour, overcome unexpected consequences and learn powerful science to back their design choices.
Behavioural science in a box
Our aim is to unlock real people understanding found in academia and bring it to you. The problem solvers. The thinkers. The makers and creators. Each card is based on theory. With each box paired with a dedicated citation guide so you can keep learning all things brain, decision and people science.
Tried and tested
Our BehaviourKit was created by us, to use with our clients at BehaviourStudio. These are the tools that we use on projects spanning digital products, services, organisational change and policy making. You could say they are the boxed equivalent of our brain power and experience. Scary.
Bring behaviour change principles into your next project with these question based ideation cards.
Bitesize behavioural insights.
Proven knowledge paired with actionable questions to get you started.